The newsletter of Wellington Repertory Theatre Inc.
Vol 95 No. 5, July 2021
Dear reader
President's Note
June was a bit of a milestone month for me – it was great to get Popcorn off the ground with Isaac Borgman, and both of us were very proud of the cast and crew that supported the show. It was another high-quality season from WRT, with some great performances, reviews and (of course) plenty of fun!


Afterwards, I had my traditional five minutes off, before getting back into all of the things that had been left on the back burner (or the dining room table) during the well-planned, but frantic, moments leading up to the show opening.


We've got two seasons coming up, in Suddenly Last Summer and The Spitfire Grill, both of which are well into production. We still need plenty of support for both, so please get in touch if you'd like to give a hand!


All the best for those cold winter nights.
Contents
President's Note
Popcorn - the endgame
Suddenly Last Summer sponsorship
Suddenly Last Summer update
The Spitfire Grill - auditions this weekend!
Profile - Margot van de Water
The Apartment workshopping the script
Play readings
2022 Submissions
Join WRT as part of the crew
2021 Season
Supporting Roles
- What's on around the region
- Gift Vouchers
- Email Signup
Popcorn - the endgame!
Popcorn proved, once again, the versatility of Wellington Rep in producing shows that appeal to a wide range of people. The show is clearly anti-violence and offers a commentary on the role that media plays in glorifying violence and the people that create it. That message is still sadly relevant.


We made a commitment prior to producing the show to donate a portion of ticket sales to the Christchurch Islamic community. That means that $585 will be winging its way down south shortly.


The show was directed by another WRT collaboration team, comprising Oliver Mander and Isaac Borgman. They explored the relationship between film and stage, with a giant TV bringing film snippets, a live TV feed and audio-visual cues to support the script. That was certainly a risk - a 'love it or hate it' moment for the audience. Fortunately, most seemed to love it!


WRT thanks all associated with this rollicking, fast-paced show!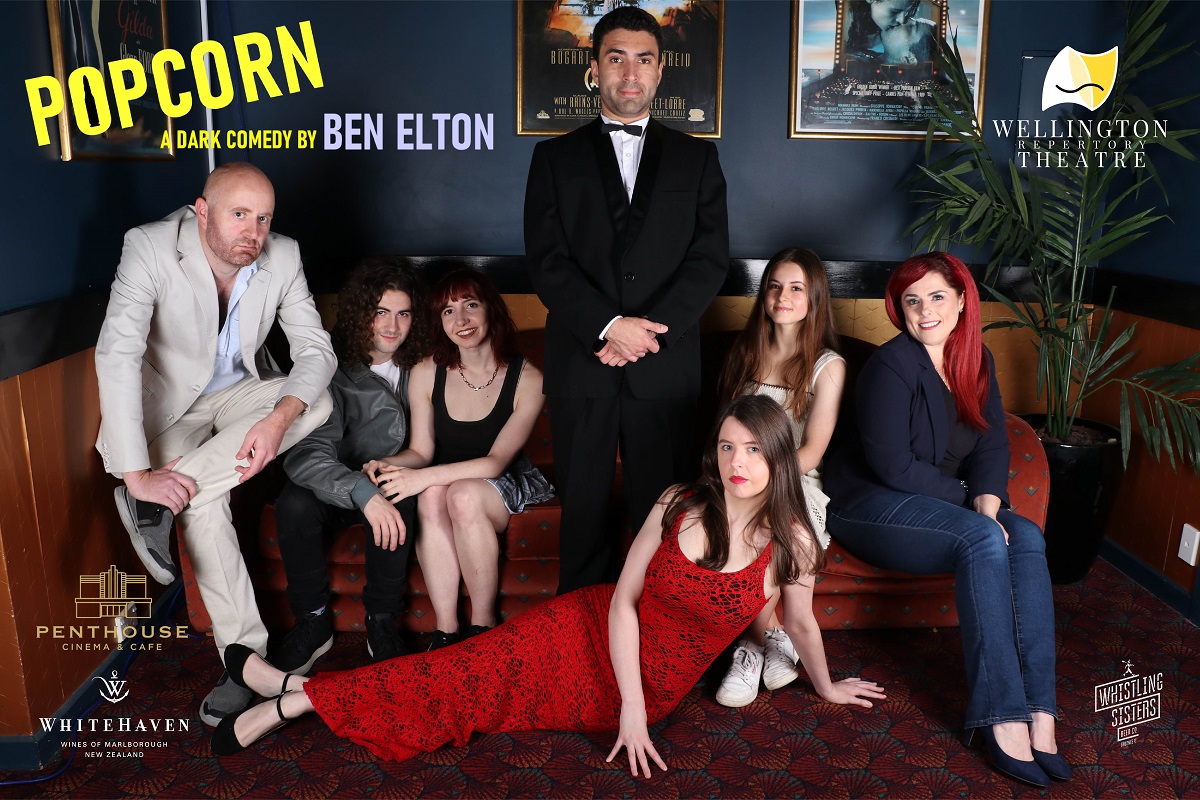 Trustees Executors Limited Sponsorship - thanks!
WRT really appreciates the support that we receive from sponsors. We are therefore very pleased to announce that Trustees Executors Limited has agreed to sponsor Suddenly Last Summer. Thank you Trustees for providing your generous support to live theatre in Wellington!


Suddenly Last Summer update
Following on from some insightful education sessions on the background of the show, we are getting straight into our Rehearsal Season. Our actors are continuing to dig deep into their characters and are flourishing under the guidance of our Director. Emily's vision for the show is slowly coming to fruition, and we are all looking forward to gradually implementing the technical elements of the show to complete the full picture.


It's been great to discuss everyone's first thoughts and impressions of their characters, and of the show as a whole. We've been having great fun considering the back-stories and motivations of each individual, and we're continuing to make solid decisions on the forces at work in the vivid and uncanny world of Suddenly Last Summer. It's easy to tell that everyone involved is already excited about the final product, we can't wait for you to come and see it once it's done and dusted!


Book on the Wellington Repertory website.
The Spitfire Grill - auditions this weekend!
With the closure of the local quarry, the over-harvest of local timber and the realignment of a main highway away from the town of Gilead,
The Spitfire Grill
finds itself at the centre of a community that has stagnated. Each town member wishes for a return to the good old days, or at least to happier times. Something needs to change. And then, with the arrival of ex-convict Perchance (Percy) Talbot, everything changes. But are those changes for good? How will the townspeople react to this intrusion, to the changes Percy causes by just being there, and to the challenges of facing what they have become. And how will Percy deal with the changes that this causes in her…..?
The Spitfire Grill is being directed by Jennifer Goddard.
Auditions are being held on Saturday 17 and Sunday 18 July, 10.00 am - 4.00 pm, Toi Poneke Arts Centre. To book an individual audition time email:
Further information, including character descriptions, is available on our website.
Profile - Margot van de Water
Margot plays Catherine Holly in Suddenly Last Summer. By day an accountant, and in the evening, a NASDA-qualified actor. Read on to learn more ...


How many shows do you think you have been involved with?
When did you first get involved in theatre?
I started doing music at a young age so was relatively used to performing early on.
Specifically for theatre, though, every second year at my primary school we got to do these fantastic, huge scale "operettas" that were performed in the Theatre Royal in Christchurch. The whole school was involved. My first production was when I was in year four (so about nine or 10) and we did Joseph and the Amazing Technicolour Dreamcoat. I was "Good Corn #4". We made the costumes in art class. My stepdad was actually the Deputy Headmaster of the school, and he directed, produced and coordinated the productions. He remains the best Director I've ever worked with!


What is a recent "special moment" you have encountered in terms of theatre?
I felt incredibly lucky to be part of the Ophelia Thinks Harder team last year. Working alongside Annica Lewis in the infamous R&G (Rosencrants and Gilenstern) roles was a dream come true - she is such a free and courageous actor and she really pushed me to be bolder than I think I could have been otherwise.


Why do you enjoy performing?
Storytelling is a vital part of our genealogy, our ancestry, and our survival. Connecting to this rich and intricate history feels like magic to me.




What is another hobby/interest you have that people might not know?
I am really, really passionate about my day job as an accountant. There are more crossovers between acting and accounting than people realise, and there's a lot of joy for me in doing both.




Is there anything else about you that you'd like to share with our readers?
Come see Suddenly Last Summer!
The Apartment - workshopping the script
Local playwright and theatre director, Tama Smith, has written a short play based on the Covid-19 lock down during 2020 and the effect it had on people's lives.
Wellington Repertory has agreed to support this by organising and running a workshop on the play with a Script Advisor from Playmarket. This is scheduled for Sunday 29 August at 6.00 pm, after the Suddenly Last Summer matinée.
A cast will be assembled to read the script and Tama will work with the Script Advisor to develop the play in a production.


Members of Wellington Repertory Theatre are invited to attend and observe how the process of workshopping a play works. It is a great opportunity to see how script development works and how a play can develop.
Play readings
Kara Lipski is a member of Wellington Repertory who has written a number of short plays, and is organising a series of play readings of her scripts. Kara invites members of Wellington Repertory to participate.


Challenge Enough - Sunday 1 August from 2.00 pm. Six people required, each of whom will read two characters.
The Revolt - Sunday 22 August from 2.00 pm. There are nine characters aged between 65-75, but two characters can be read by one person.



2022 Submissions - get in quick!
Yes, it is that time again! WRT takes submissions at any time during the year, as it plans its seasons on a rolling basis. This year, we will look to make decisions by August and communicate our 2022 season by September. At this stage, we already have two shows slotted for 2022. We can't announce them yet, as we await performance dates, but we're excited to bring them to Wellington! That means we are looking for two additional shows to complete our season. We encourage submissions at any time; even if the show might not be quite right for 2022, we are always looking ahead to future years.


Of course, there is some paperwork to complete to get organised. Visit the Directors page on our website to download the submission form – and get your 'creative' on! It's also important to read and understand the Director Protocols and Production Manual (links contained in the submission form) – we operate in a very flexible way, but in all of our productions this helps ensure that everything that needs to happen gets done!
Join WRT as part of the crew
Interested in being part of the crew for future productions? We want to hear from you!
The Wellington Repertory Committee is compiling a call list for those interested in helping out in areas such as stage management, lights, sound, props, production, music, front of house etc.
If you haven't got experience, but you're keen to learn, we can help with that too!
25 August - 4 September 2021
What's On around the region:
New Players - Murder on the Menu by Devon Williamson 25 August – 4 September , bookings open soon
Denominations are in $100 (for the Season Pass), $35, $30 or $25, with the ability to insert your own message into the voucher.


Is there anyone you can think of who might want to join our "behind the scenes" mailing list? If so, they can signup via our website - keeping them informed as to the latest and greatest at Wellington Rep!